Receiving traffic on your website is no easy task, you need to invest time and money to make sure potential prospects get to know you.
Once you get traffic, how do you convert visitors into clients? Filling your calendar with new appointments is another big challenge, and it shouldn't be all that hard.
Getting Visitors to Contact you
Whether you provide services online or at your physical address, your ultimate purpose is to get your agenda fully booked every week and get paid. Now chances are that you already provide a visible call-to-action on most of your pages so that visitors can quickly contact you over the phone or send you an email through a contact form.
Over the Phone
Displaying your phone number on your website is a great way to reassure potential customers and provide them a direct line to you. It definitely removes barriers and makes you accessible which based on your business can be great especially if you're just starting.
Now if you're starting to get more and more traffic on your site and receive more calls than you can handle. It quickly can become a pain to deal with these calls the whole day. Getting constantly interrupted while working will make you less efficient in what you do and ultimately the service you provide will be of lesser quality.
Through a Contact Form
The most common feature for any website on the web is the contact form, whether it's here to help answer pre-sales questions, provide support or simply make an appointment. There are various solutions existing to get this done, the most popular plugins for WordPress are the following:
Depending on your needs you can take care of really complex scenarios thanks to those plugins.
These are a great way to get a first contact, also it allows you to deal with customers' requests asynchronously meaning you can dedicate special time during your day to reply to your customers instead of being randomly interrupted during the whole day.
Now you will receive various contact requests daily about many different topics. But for sure depending on your business some will be redundant. And you need a way to deal with the most common requests in the most efficient way.
This is a question that you need to ask yourself based on the kind of services you provide to customers, and maybe based on your experience.
If you provide services with specific durations to your customers, then using our appointment scheduling plugin will benefit your activity.
Appointments Plugin for WordPress
Wappointment was created firstly for service based businesses, the idea is to make the process of scheduling an appointment a breeze.
Make an Appointment as a Visitor
The concept is simple, your visitors will click a "Book now" button in your site
A calendar with your availability appears
The client pick an available day and a time
He enters his personnal details
A confirmation screen is displayed
Finally the appointment details is sent to him by email
Setup Wappointment Under 1 Minute
Wappointment is made for dummies, in our design process we made sure that no one will feel overwhelmed using our plugin.
Setting up Wappointment is extremely straight forward, you will be facing a simple 3-steps wizard in which the most basic setup to start receving new bookings will be covered.
The three steps of the wizard are as follow:
Set your availability
Define your service
Design your booking widget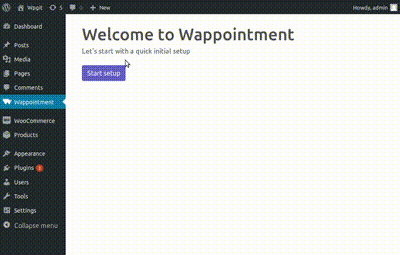 Wappointment is Free
Wappointment is a free plugin for WordPress, you can install it easily from your WordPress' dashboard in the Plugins' page.
We could write extensively about it but it's so simple to use that we believe it's just better to install it and try it directly.
Not convinced check out our one minute learner video below.